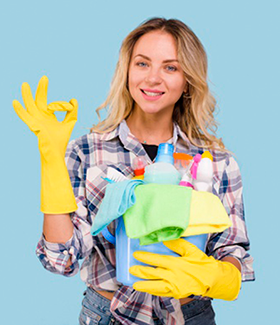 It is a long way to reach the top of the cleaning hierarchy, but we successfully keep our position. We assure you that everything looks good, when you are that high, but we still remember how we started our journey.
A long time ago, we didn't have an e-mail through which you can book cleaning services. We didn't have a lot of staff, we had only a few ads on paper and a phone. With time passing, we learned how to show people that we know what cleaning is about, we learned the smallest secrets of thorough cleaning and we can now proudly say that we absolutely deserve our place in the cleaning chain.
Our cleaning experts are the most polite and gentle employees ever existed. Each and every one of them is professionally trained, has experience and is completely aware of the task they have and the proper way to achieve the perfect results.
People say that time changes things. We can calmly say that it's not true. The truth is that people change, therefore we change. Time passes away, but we learn with every minute. We constantly improve our skills with only one goal – exceed every expectations of every single client.
We work for you and for the nature, too. Leave the low price list, leave the numerous services we offer, put your attention to the fact that we know what is best for you and we use the best in order to deliver our services right on time and without any remarks. Most importantly, you don't need to worry about the cleaning products and detergents that we use, because all of them are toxins free and are absolutely harmless to your health and the environment. You are totally playing safe if you choose to book our cleaning services. Professionalism is our middle name!
I had no other option but to book a professional end of tenancy cleaning service. My brother recommended me this company so I took a chance. The cleaners arrived on time and did an impressive performance. The house was left spotless!